Are you looking for an unforgettable adventure on two wheels? Look no further than Moab, Utah, where the stunning natural scenery, challenging terrain, and diverse cycling routes make it a dream destination for any cycling enthusiast. Better known for its mountain biking trails and stunning scenery.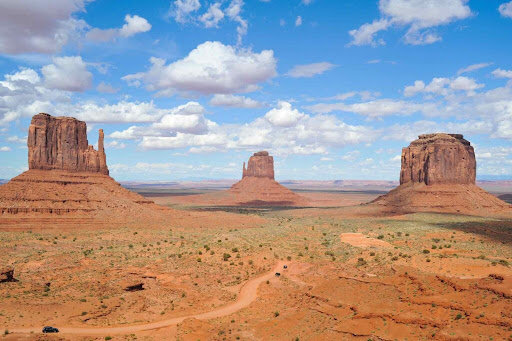 Biking Trails Near Moab, Utah
Monitor and Merrimac Trail: A technical singletrack trail with incredible views of the Colorado River.
HyMasa Trail: A fun and challenging trail that includes a mix of slickrock, flowy singletrack, and technical features.
Mag 7 Trail System: A network of intermediate to advanced trails that offer stunning views of the La Sal Mountains and Moab Valley.
Pipe Dream Trail: A fun and flowy singletrack trail that winds through the red rock formations near Moab.
Klondike Bluffs Trail System: A network of trails that offer a mix of technical terrain and stunning views of the surrounding area.
Slickrock Trail – a challenging 10.6-mile trail with steep climbs and descents, famous for its slickrock terrain.
Porcupine Rim Trail – a 14.8-mile trail with technical sections and stunning views of the La Sal Mountains and Castle Valley.
Klondike Bluffs Trail – a 17.5-mile trail that offers a mix of slickrock and singletrack terrain with moderate climbs.
Dead Horse Point State Park Trail – a 9-mile trail that offers spectacular views of the Colorado River, Canyonlands National Park, and the La Sal Mountains.
Intrepid Trail System – a network of trails with various difficulty levels, including the Intrepid Trail, a 5.2-mile beginner-friendly trail.
Moab Brands Trail System – a network of trails with various difficulty levels, including the Bar-M Loop, a 7.8-mile intermediate-level trail.
Cycle Friendly Accommodation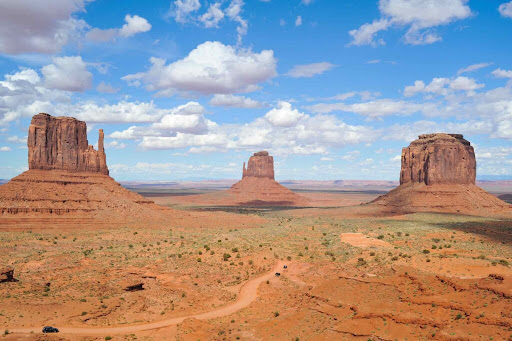 Stunning Video Footage Of Biking in Moab
Cycling Tour Companies Moab
Healthy Places To Eat
Sunset Grill
Sunset Grill is Moab's premier fine dining destination, steeped in local history. The restaurant is atop a mountain, with sweeping views of Moab and the surrounding red cliff-side for which the area is famous. Before becoming a restaurant in 1993, the building was the luxurious home of a millionaire that mined uranium in the nearby mountains. Today, Sunset Grill serves dinner and drinks daily. The menu offers American fare, with prime rib, raspberry duck, and an Idaho Snake River trout. A wine and beer list with a large selection of locally-made beverages is available and ready to be expertly paired with your meal. Every table has a view.
The healthiest option is the salmon with basmati rice or the prime rib with baked potato
Miguel's Baja Grill
Miguel's Baja Grill serves authentic dishes from all over Mexico, but mostly from the Baja California region on the West coast. Several dishes on the menu feature seafood, and ocean fare from Miguel's is always fresh. The produce used in the kitchen is organic whenever possible. Beyond the expected nachos, tacos, and guacs, Miguel's also serves hearty salads and a bacon-wrapped scallop appetizer that is a must-try. This place has become so popular that there can be a wait for a table, so make sure to avoid disappointment by making a reservation.
They have a few healthy options such as the chicken or steak salad. Or if you are looking for a little spice in your life try the Don Juan Carne Asada Taco. (New York Steak)
Milt's Stop & Eat:

Milt's Stop & Eat has been in business since the fifties and remains a charming spot to get simple, but delicious food. The menu offers classics like burgers, hotdogs, sandwiches, fries, and tater tots. All of the beef used is grass-fed and hormone-free, and the restaurant sources vegetables and dairy products from local farms. Milt's also gives customers the option of upgrading a speciality burger to buffalo. Be sure to save room for a classic dessert like a malted milkshake or a banana split.
The healthiest option here is the chicken sandwich, if its protein you need you have picked the right destination.
Zax's
Zax is a welcoming and easy-going restaurant that attracts locals and visitors. Their wood-fired brick oven makes pizzas to order all with fresh ingredients. Zax also serves excellent burgers, sandwiches, and fries. They offer a large selection of microbrews from craft breweries around the state to wash your meal down. The perfect place for a relaxing bite after a day of adventuring.
The healthier options are the salads, Greek salad, Caeser or a Cobb salad. Looking for protein, the grilled ribeye or the flat iron steak will curb your cravings
Jail House Cafe
Jailhouse Cafe is a well-known favorite among locals in Moab for breakfast. The menu offers American breakfast standards as well as several rare items. A favorite any visitor must try is the Soul Food Bacon: a thick-cut, salty bacon that will fill you up for the day. The small dining room feels cozy and comfortable, and the service is always friendly.
Moab Diner
Moab Diner is a restaurant full of character and nostalgia. The building used to be a popular drive-in burger joint. Regulars rave about the friendly service, affordable prices, and generous portions. The restaurant serves breakfast all day, along with standard lunch and dinner fare. They also have an old-fashioned ice cream bar that has been around for over half a century, through changing ownership. Moab Diner is the perfect place to go for home-style food and a nostalgic sweet treat.
There mountain biker breakfast seems like the perfect refuelling lunch
Moab Brewery
Moab Brewery is one of the best in the state, and its restaurant is a must-visit in the Moab area. The brewery makes some excellent microbrews, including ales, lagers, and brewed sodas. The restaurant's menu has something for everyone, whether they are looking to enjoy a cold pint or something else. Plenty of healthy salads and wraps to the more substantial or exotic, like the Bang Bang shrimp tacos
More Cycling Destinations in The USA
Part of our 5 best places for a cycling vacation in USA series.