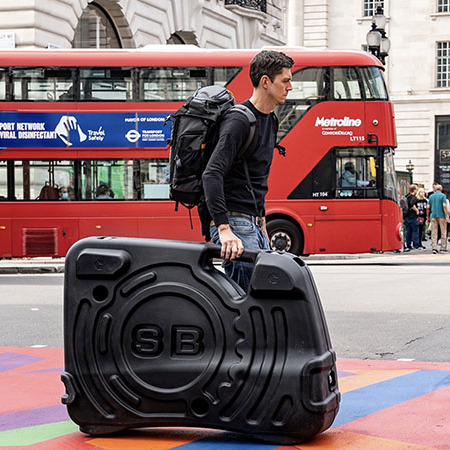 Built in Anti Crush System
For unmatched Manoeuvrability
For Protecting your bike and looking good doing it
Our high performance, easy to pack, innovative design brings together quality, durability and affordable strength. The Shokbox bicycle transport case with integrated features such as recessed TSA latches, wheels and handle cleverly engineered from tough durable materials with strength in mind, to create the ultimate protection system.
Shokbox is safe, strong and without doubt the safest solution for transporting your bike. With TSA latches and GPS tracking our design incorporates Shokbox's revolutionary impact damping system and smart impact zones, we use seminal technology and suspend the frame and wheels in an amniotic type cavity to give ultimate protection for your bike.
Hand built in the UK, Shokbox is unique in its appearance and stands alone in performance. With sweeping lines and contours, we were purposeful in the design process, avoiding flat surface areas our smart design gives strength and added protection without increasing the overall weight or compromising internal security and impact integrity
Shokbox is the ultimate bike transportation solution, safe and secure but also quick and easy to pack. Throughout the design process we aimed to make Shokbox the easiest bike case to pack in world, with many complications of traditional packing removed, many of Shokbox's features are designed specifically to simplify and speed up the process without compromising on the safety of your bike.
As lifelong cyclists, we have developed a passion for travelling overseas with our bikes. Most bike cases on the market didn't give the confidence that our precious cargo would be safe and secure once in the hands of the airline baggage handlers. We found that most offerings were just adequate with little or no attention to design or engineering!
Over a cold beer in the pub, the beginnings of Shokbox started to form……
For three years, we worked with some of the UK's best engineers and product designers; we set out to rethink the future of bike cases. We looked at form and function with special focus on the journey of the modern cyclist, we were determined that every element of the design would be thought through. At each stage we tested and re-tested, from the materials we selected, to the internal straps, we knew its structure and stand-out appearance would define it from other cases on the market, while its unparalleled strength and integrity would underpin its success.
Along the way, we've experienced some challenges – some were tough lessons and many reality checks, one defining example was never, under any circumstances, cut corners or compromise on quality especially in the name of saving a few quid. Designed by cyclists, for cyclists.
THE SHOKBOX CUSTOMER EXPERIENCE
When you purchase a Shokbox and place your trust and confidence in our products, we believe that all customers should benefit from our understanding, friendliness and a willingness to help.
It's easy to say, but not always truly meant, but at Shokbox a positive customer journey is engrained in our culture. We value our customer and will always listen. While we accept that sometimes things don't always go to plan, at Shokbox we will own it and deal with it head on. We will always aim to go that extra mile and always do the right thing.
When you buy a Shokbox product you will receive the highest level of customer support, backed up with Shokbox's lifetime product warranty.
Corporate Social Responsibility
We are proud to make Shokbox in the UK and will always ensure that all our materials are sourced ethically. where possible we support local businesses for our supply chain, simply because that's the right thing to do.  Small businesses supporting each other.
Our commitment
– Delivering Excellent Customer Experience
– Innovation and excellence -always seeking to innovate and improve our products
– Honesty and integrity – truth matters
– Being passionate in everything we do – for the benefit of our customers
– Within reason – never cut corners in the name of saving money
Watch the complete tutorial to learn how easy it is to pack your stuff and travel with shokbox.