A bike box is a structure or enclosure used to store and transport bicycles. Bike boxes can be made of a variety of materials, such as metal, plastic, or wood, and can come in a range of sizes to accommodate different types of bikes. Some bike boxes are designed to be used as storage units, while others are specifically intended for transportation. Bike boxes can be used by individuals to store and transport their own bikes. Or by businesses such as bike shops or rental companies to store and transport bikes for their customers. Bike boxes can be used to protect bikes from damage, theft, or weather during storage or transportation. Think of it as a bike suitcase
The Shokbox bike box is designed to keep your cycle safe on international air travel 
Martin Greene
Our hard bike case is manufactured from a unique blend of polymers and provides a high level of strength and security when transporting your bike overseas. Designed, manufactured and engineered in the UK.
Dimensions
| | |
| --- | --- |
| Weight | 12.5 kg |
| Dimensions | 120 × 33 × 91 cm |
| Colour | Black, Blue, Green, Orange, Pink, Red, White, Yellow |
| Bar code | 5060613180006, 5060613180013, 5060613180020, 5060613180037, 5060613180044, 5060613180051, 5060613180068, 5060613180075 |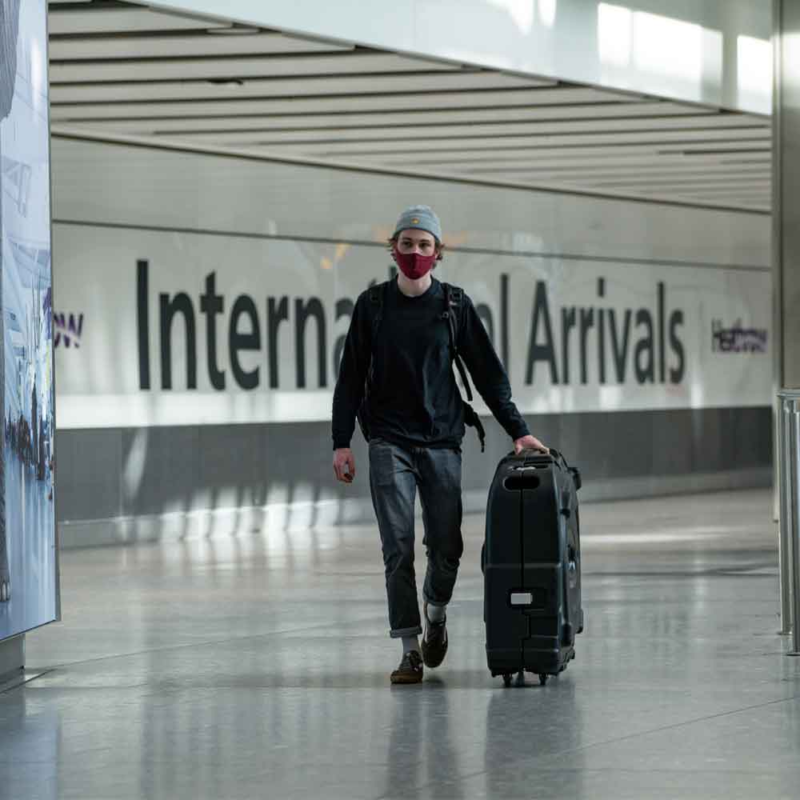 In this instance it is NOT an area at the head of a traffic lane
The best way to fly with your bike box
There are a few things you can do to ensure that your bike arrives at your destination safely when you fly with it in a bike box:
Choose a sturdy bike box: Look for a bike box that is made of sturdy material and is in good condition. This will help protect your bike from damage during transportation. Of course we recommend Shokbox.
Pack your bike properly: Make sure to disassemble your bike as much as possible and remove any loose parts or accessories. Wrap your bike and its components in protective material. Things such as bubble wrap, and place them securely in the bike box.
Secure the bike box: Use packing tape to seal the bike box and reinforce any weak or vulnerable areas. You may also want to use straps or other restraints to secure the bike inside the box. Read our full guide on flying with a bike.
Choose a reliable airline: Research different airlines and compare their policies and fees for transporting bikes. Some airlines may have more experience or better handling procedures for transporting bikes. So it's worth considering these factors when making your travel plans.
Purchase additional insurance: Consider purchasing additional insurance to cover your bike in case of damage or loss during transportation. This can provide peace of mind and financial protection in the event that something goes wrong.
Be prepared for fees: Many airlines charge fees for transporting bikes. So be prepared to pay extra when you book your flight. It's a good idea to check with the airline beforehand to find out what the fees are and how they will apply to your specific situation.
When Your Luggage Goes Missing
Airlines are liable for the losses if your luggage is lost, delayed or damaged, but there are no fixed compensation rules. To increase the chances of finding your luggage, it is essential to label it with your name, address, and email. Most airlines will reimburse you for essential items you need to buy in case of delayed luggage. If you are on a journey with two or more airlines, you can claim from any airline, but it is usually the final airline that handles the claim.
To make a claim, you must report the loss or damage at the airport and keep a copy of the Property Irregularity Report. You must claim in writing within seven days for lost or damaged items and within 21 days for delayed bags. Airlines may not be liable for the losses you incur due to the delayed bag, but travel insurance may be a better option to claim the total cost of the loss. Before making a claim, check your travel insurance policy's time limit and excess.
Airlines Most Likely To Loose Your Luggage UK
Ryanair
Emirates
Alitalia
Etihad
Iberia
Royal Air Maroc
Vueling
British Airways
Jet2
Turkish Airlines
More Resources