It seems that everyone is eager to share their experience of the amazing views they see when out cycling. It hasn't always been a practical solution for the two to go together. It was probably the last thing you wanted to carry in your backpack, a heavy DLSR camera along with various lenses. However, since the advancement of smartphones and the ever evolving Go Pro, images of cycling have exploded on social media.
They do say if it's not on instagram did it really happen! Gone are the days of a family photo album, now it's the global look at my social media post. If you want to share your best cycling moments what's the best way to do this? Wales offers some great photo opportunities, discovering cycle friendly accommodation in Wales.
Cycling and Photography History
You would be forgiven for thinking that this is quite a modern phenomena, surprisingly it started way back in 1897. The cycling craze of the 1890s coincided with the growth of amateur photography following the introduction of 'dry' plates. It was inevitable that the two would come together. As the Photography Annual observed in 1897:
The journal that was published for these two popular hobbies was simply called, Cycle and Camera. The tag line was "The Only Journal For Cycling-Photographers" and the cost was 1 penny.
In fact it became so popular the camera manufacturers started making cameras that would fit in the frame of the cycle. They would make them as flat as possible and then they were placed inside a carry case and hung from the top frame beam. To take a photograph they removed it from the case and then opened the camera to extend the bellows. This would align the lenses and a photo could then be taken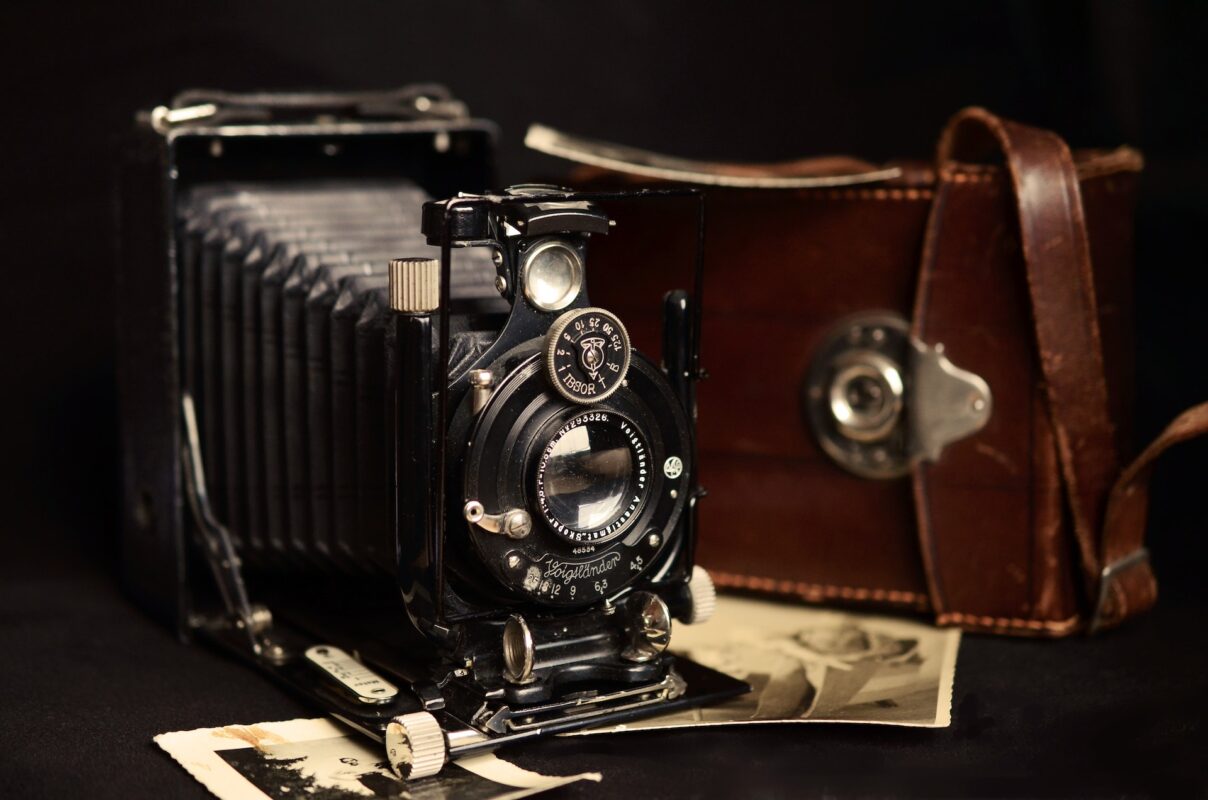 Type Of Equipment For Photography
The type of equipment probably depends on where your passion lies. Is it cycling or photography, maybe you have the same passion for both. Today's smartphone can take stunning pictures, you can even take stills on your Go Pro so you can combine video footage and stills.
The down side of DLSR's is probably the weight, however, you get much more control over the image itself. You can adjust the light setting, the speed setting and the depth of field resulting in a richer image.
Editing You Photos
People underestimate the amount of time it takes to edit your photos. You may have taken several photos of the same composure. Which one do you pick, do you edit the image to make it look better. What editing software will you use, the one on your smartphone or do you transfer it to your computer for editing.
The next thing you need to think about is where are you going to store all the photos. You could make the quick decision when you do not like a photo and instantly delete it. That may be the intention but inevitably the collection of photos begins to grow, usually to thousands.
Where To Store You Cycling Photographs
Memory cards (DLSR)
External hard drives
Google storage (15g of free storage, 100g £1.49 a month, 2TB £7.99 a month)
Dropbox (2TB £7.99 a month)
Flicker, free version is 1000 photos (it does have a pro subscription model but is let down by complicated files format allowances)
Where To Post Your Cycling Photos
Once you start taking photos whilst you are out cycling you are going to need an outlet to post all the images to gain some feedback. Hopefully it will be encouraging positive feedback. However, it is social media and a lot of people hide behind faceless accounts so do be prepared for the odd ones.
Where To Post Your Cycling Images
Instagram Hashtags For Cycling
If you want to get noticed on instagram for your passion for photography and cycling you need to be using the correct hashtags to get greater exposure. Below are a list of the current best hashtags for cycling.
#cycling
#cyclinglife
#bike
#Shokbox
#Takeyourbike
#mtb
#bikelife
#cyclingphotos
#roadbike
#cyclist
#ciclismo
#bicycle
#mountainbike
#roadcycling
#instacycling
#mtblife
#cyclingshots
#fitness
#cycle
#cyclingpics
#strava
#triathlon
#sport
#outsideisfree
#bikes
#bicicleta
#bikeporn
#ride #
nature #
fromwhereiride
#instabike
Photography Hashtags
To get the most out of the hashtags and exposure you will need to use a mixture of the cycling and photography. Below are the best performing hashtags for photography this year
#photography
#photooftheday
#instagood
#photo
#picoftheday
#photographer #
travel
#photoshoot
#naturephotography
There are some great photos in this post about biking in the Balkans.
UK Cycling Hashtags
#UKCycleChat
#UKCycling
#UKCyclingEvents
#CyclingUK
#BritishCycling
Of course if you are travelling abroad to take your cycling photographs make sure you take your bike in one of our Shokbox bike box. We have also produced a handy guide for flying with a bike.