It is 2021, the 16th of July and hopefully most of the lockdown restrictions will be lifted on the 19th of July. You can pack up your bike in a Shokbox and then board an airplane with you bike. But where are you going to go for your cycling holiday ? Of course it all depends if the country is on a green, amber or on the red list. There are further complications unless you are double vaccinated, then the word opens up a little more without restrictions. For the latest advice visit the Gov site on travel advice.
August and travel guidelines have now been updated, especially if you are double vaccinated. Do check the government website for the latest travel advice.
Airlines Weight And Size Restrictions
Each airline has their own weight and size restrictions so it is best to check the airline that you intend to travel with. The Shokbox bike box dimensions are
120cm Long x 33cm wide x 91cm high
The weight of the Shokbox is 12.9 kg
Average Weight Of Cycles By Type
Average weight of a Mountain Bike = 13.6 kg
Average weight of a Road Bike = 10kg
Average weight of a Touring Bike = 13.5 kg
Average weight of a Cruiser Bike = 16.5 kg
Average weight of a Utility Bike = 17.4 kg
Do weigh you bike in the bike box before you set off to the airport as you do not want any nasty excess charges before the holiday begins.
Find the Right Airline for Shipping Bikes
Choosing the right airline for shipping your bike is an extremely important decision. You need to consider, for example, the distance of your trip, the weight of your bike, and what size bike you are looking for. Our airline guides flying with your cycle.
Step 2. Pack Your Bike Properly for Air Travel
Ideally you will pack your bike in a hard bike box like, Shokbox. If you don't the airlines recommend the below.
Partially deflate the tyres to reduce the risk of damage.
Turn the handlebars so they're in line with the frame.
Remove any attachments, including pedals.
Ensure the gearing is especially well protected.
Protect the frame with bubble wrap.
Use spacers between the dropouts
Fit spacers between the dropouts of your frame and fork to prevent damage. You can buy dropout spacers but when manufactures ship the bikes to shops they come fitted with a plastic spacer. Talk with your local cycle shop can you may even get some for fee or a few pennies.
Disc Brake Pad Spacers
If your bike does have disk brakes then consider fitting a pair of spacers
Don't carry tools in your hand luggage
Make sure you read the airlines guidelines but as a rule of thumb do not take tools in you hand luggage. The UK airports rules are "say no screwdrivers, pliers or "tools with a blade or shaft longer than 6cm". However, We've heard of people having multi tools and hex keys taken off them, so you're better off avoiding the hassle by putting anything like this into the hold.
C02 Cartridges On Airlines
Do you take your CO2 cartridges or go for the old fashioned hand pump when flying aboard. The CO2 does come with some complications and this his what the CAA has to say
No more than four small cylinders of carbon dioxide or other suitable non-flammable non-toxic gas per person and the water capacity of each cylinder must not exceed 50 mL. Note: For carbon dioxide, a gas cylinder with a water capacity of 50 mL is equivalent to a 28 g cartridge.

Civil Aviation Authority
However, the bike forums and real life experience says a little different about carrying CO2 canisters. It seems that it depends on the airline and in some instances the 3rd party security and baggage handlers. It really is much easier to take a simple hand pump with you.
Size Of Transport At Your Destination
Something that is very often overlooked, you get your bike box to the airport. Then its on the airplane to your destination and once your there you find out that our rental vehicle won't accommodate your bike box and luggage. Ensure you check the manufacturers dimensions of your hire vehicle before setting off to your destination.
More often than not it is more expensive to upgrade your hire vehicle once you are abroad, rather than online. Secondly the option of upgrading to a larger vehicle once you are the may not be available. Not every destination airport has a mass of large vehicles available to hire at a moments notice.
Bike Insurance For Traveling Abroad
You may have taken very precaution possible but accidents and baggage handlers still do happen. Even worse your luggage could go missing and that could also spoil the euro cycling holiday. Bike insurance is essential when you are flying with your bike, and the cheapest is not always the best. Do ensure that it covers everything you need
Think about what protection you want from your bicycle insurance.
To find the best cover, you should think about:
How often you want to take your bike abroad
How much cover you would need to replace your bike
If you need travel insurance to ride your bike overseas
Theft, accidental damage and vandalism
Personal accidents, for example if you are injured after a crash
Third party liability
Damage or loss of accessories like your helmet
Replacement bike hire
Cover while in transit
Getting your bike home, If you are injured and need to get home, the cost of returning your bike separately will be covered
You will need to read your policy carefully and note what could not be covered on the insurance. Some insurance companies state "approved locks", they may even state that mountain biking is an extreme sport and is not covered. Also speak with your fellow bikers to get the good, the bad and the ugly about the bike insurance companies.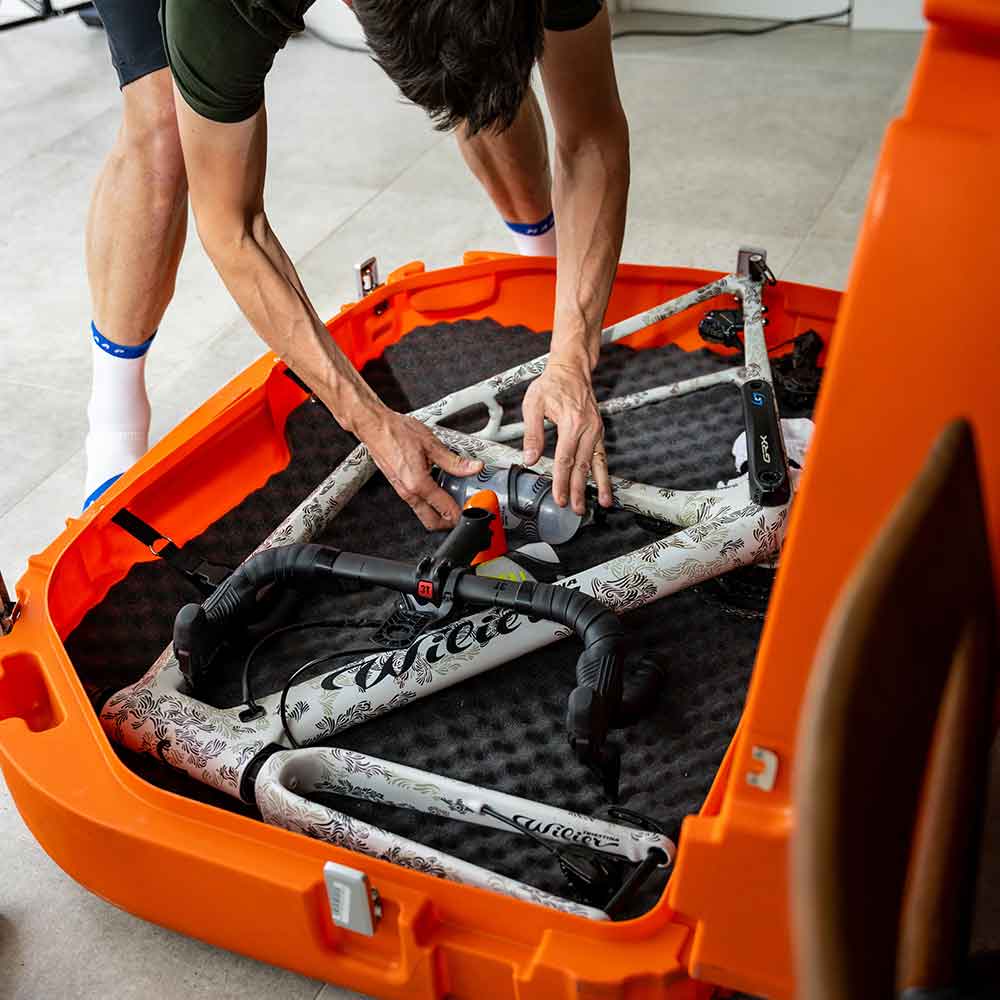 Check Your Bike For Damage When You Reach The Destination
If there is any obvious damage to the bike case report it to the airline immediately, ideally contact the insurance as well. Hopefully there will be no sign of damage to you bike box but do inspect your cycle as soon as possible. Upon inspection if there is any damage to the bike then document and photograph. It may be a good idea to take a picture of the bike in the open bike box before you fly. This way it will be easy to show the insurance company any differences that occurred during transportation.