On a British Airways flight you can take your bike as a part of your FREE checked baggage allowance. If your fare doesn't include checked baggage allowance or you need to take extra luggage with you, than a fee will apply.
You can take non-motorised bicycles of up to 190cm (75in) in length as part of your checked baggage allowance, provided: You let us know by calling our contact centre at least 72 hours or more before your flight to tell us that you are bringing your bike with you. This is no matter what cabin you are travelling in. We also need to know how big the bike box is and, if possible. Also how much it weighs so we can tell our baggage team.
If it's a non-rigid bag, please make sure the handlebars are fixed sideways and the pedals removed or fixed inwards. It's also best to reduce tyre pressures.
Make sure your bike is packed in a protective bicycle cover/box that is no larger than 190 x 95 x 65cm (75 x 37.5 x 25.5in) to reduce the risk of damage. This can be a heavy-duty polythene bike bag, padded case or hard shell. If in a non-rigid bag, please make sure the handlebars are fixed sideways, and the pedals are removed or fixed inwards, so they don't stick out. It is also sensible to reduce tyre pressures. Clothes or other personal items should not be packed with your bike in your bike bag/box.
When checking in oversize items such as your bike box it can take up to an extra 15 minutes. Best to be aware and not upset the British airways staff and risk your bike not going on the flight.
British Airways Bike Travel Guidelines
Cost: Free if it falls within your checked baggage allowance
Dimensions: 90 x 95 x 65cm (75 x 37.5 x 25.5in)
Weight Allowance: 23kg (51lb)
Overweight Charges: 23-32kg (51-70lb) 65 GBP / 75 EUR / 100 USD / 100 CAD per overweight bag and one-way journey. Per item
Overweight Charges: Over 32kg (70lb) Will require shipping as cargo. Contact British Airways
Comparison Flight Cost British Airways Vs Easy Jet
As a sample destination we picked our cycle destination, Lisbon in Portugal. Portugal has everything – extensive shorelines, national parks, mountain ranges and glacial valleys. All-in-all, everything that any serious cyclist could want from a holiday destination.
Of course the comparison is how much it costs to get you and your bike on the flight to Portugal. Usually British Airways are considered to be more expensive than most other airlines.
The date we have picked is 29th April 2022 for 7 days, flying to Lisbon.
Cost Flying Your Bike on British Airways

So the total cost with British Airways is £261 that includes your hand luggage and you're 23kg checked in luggage. If you can get the rest of your gear in the and luggage then thats all you would pay because bikes can go for free as your checked in luggage.
However, if you can not manage that you will have to pay the extra of overweight charge. That would be £65 each way costing £130, add that to the plane ticket comes to £391.
Cost Flying Your Bike on Easy Jet
So the cost to fly your bike on Easy Jet is

Surprisingly Easy Jet is a little more expensive than BA coming in at £285 and that doesn't include the bike. To take a cycle on Easy Jet it will cost you another £45 each way if you book online. The total then would be £375 for the bike, hand luggage and checked in luggage. There are options to reduce this price because they charge extra for hand luggage. A cabin bag on Easy Jet comes in at a whopping £70, checked luggage is £72. By packing all your gear into your checked luggage and a few things into your small hand bag (free) you get the cost down to £305.
The reality is unless you have a lightweight road bike you are going to go over the 23Kg once its inside the bike box.
BA vs EJ Flight Cost With a Cycle
BA Using your luggage allowance for your Bike £285
EJ Bike plus checked luggage (no hand luggage) £305
BA Realistic cost £391
EJ Realistic cost £375
So Easy Jet comes out a little cheaper, you don't really want to go on a cycling holiday and not have all the correct gear with you.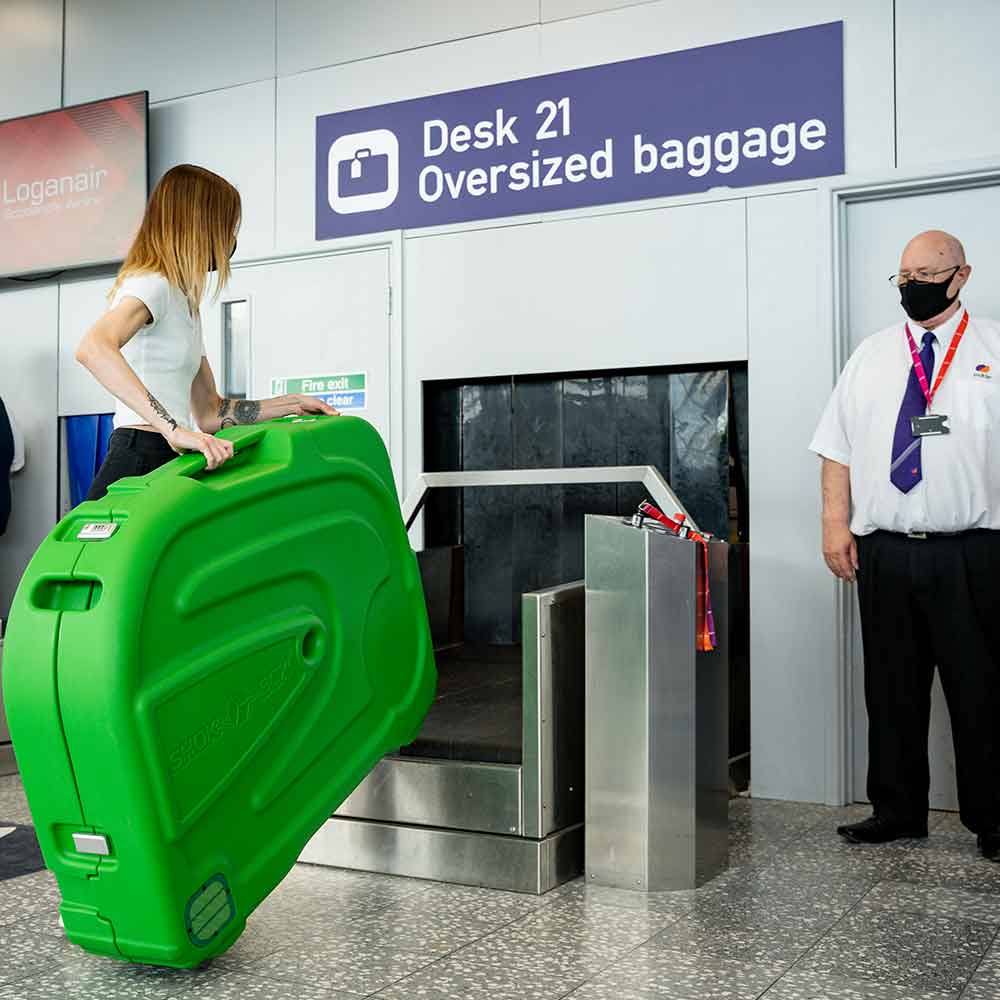 When Did British Airways Begin Flying
On 25 August 1919 Aircraft Transport and Travel Limited (AT&T), a forerunner company of today's British Airways, launched the world's first daily international scheduled air service, between London and Paris. That first flight, which took off from Hounslow Heath, close to today's Heathrow Airport, carried a single passenger and cargo that included newspapers, Devonshire cream, jam and grouse. (source)
British Airways officially started in 1974, it was created by the merger of BOAC and BEA. BA was created in 1974 after a British Airways Board was established by the British government to manage the two nationalised airline corporations, British Overseas Airways Corporation and British European Airways, and two regional airlines, Cambrian Airways and Northeast Airlines. On 31 March 1974, all four companies were merged to form British Airways. (source)
Fun Facts About British Airways
They fly to over 170 destinations in 70 different countries
They are based out of London Heathrow, the worlds busiest airport in the world
They have more than 280 aircraft
They fly more than 40 million people a year
They serve over 35 million cups of tea
3.7 million bottles of wine are consumed each year
There longest non stop flight is to Santiago in Chile, some 7,227 miles
The shortest bookable flight is to Jersey, 161 miles
The shortest international flight is to Paris, 215 miles
It takes just under 23 hours to get to Australia (Sydney)
You can fly to Australia for under £700 if you fly at the right time of year
To fly first class to Australia it would cost around £5,000, fly on the right day and it could be under 3K
They ordered their first 747 in 1986
The last comercial flight for a Boeing 747was from Dallas March 2020
British Airways was 1 of only 2 airlines to own a Concorde
Flight time in Concorde, Londo to New York was around 3 hours
Flying in a standard airplane take 8 hours to get to New York
Flying with your bike on Easy Jet Fly Your Bike with Jet2.Com