Of course you won't be flying your bike every time so you need to transport your cycle to more local destinations. You will probably need a good cycle rack to transport your bike.
Bike racks for cars allow you to transport one or more bicycles on the back of your vehicle. Several bike racks are available, including hitch-mounted racks, trunk-mounted racks, and roof-mounted racks.
Hitch-mounted racks are mounted to the trailer hitch of your car and are typically the most stable and secure option for transporting bikes. Boot-mounted racks are attached to the boot of your car using straps and are a good option for smaller cars or occasional use. Roof-mounted racks require you to lift the bike onto the roof of your car, which can be challenging for some people. These types of racks are typically more expensive and can reduce your car's fuel efficiency due to the increased wind resistance.
Choices

When choosing a bike rack, you must consider the type of car you have, the number of bikes you need to transport, and the budget you have available. It's also important to consider the bikes' weight and the rack's weight capacity. Bike racks can hold one or two cycles, while others can hold up to four or more. Some bike racks are unsuitable for certain types of bikes, such as those with non-standard frames or wheel sizes.
It's also important to consider the security of the bike rack and the bikes it carries. Some bike racks have locks to prevent theft, while others do not. It's also a good idea to use additional locks to secure the bikes to the rack, especially if you leave your car unattended for an extended period.
Tow Bar Mounted Cycle Carrier
Tow bar-mounted bike racks are a type of hitch-mounted bike rack that attaches to your car's tow bar. These bike racks are typically more stable and secure than boot-mounted or roof-mounted racks, as they are attached to the car's frame rather than the body.
Tow bar-mounted bike racks are available in various sizes and styles to suit different needs and budgets. These racks are designed to be easy to load and unload, with adjustable arms holding the bikes securely.
One advantage of tow bar-mounted bike racks is that they do not require special tools or modifications to your car. You attach the frame to the tow bar using the appropriate mounting hardware. These racks are also generally easy to remove when not in use, making them a convenient option for people who only need to transport bikes occasionally.
However, tow bar-mounted bike racks do have some limitations. They can be cumbersome to lift and manoeuvre, making them difficult to use for people who are not physically strong. In addition, they can be expensive compared to other bike racks, and they may only be suitable for some types of cars. It's essential to carefully consider your needs and budget before choosing a tow bar-mounted bike rack.
Oypla Universal 3 Bike Bicycle Tow Bar Car Mount Rack Stand Carrier £29
Universal 3 Bike Bicycle Tow Bar Car Mount Rack Stand Carrier
The universal bike rack is ideal for transporting up to 3 bikes at a time and is designed to fit any car with a towbar. The rack is incredibly easy and quick to fit; simply attach to your towbar and you are ready to go!
The rack is also foldable, so it can be easily stored in your boot or garage when not in use. The universal bike rack's high quality construction is designed to give many years of service.
Product Specification:
Size: 70 x 47.5cm
Weight: 4kg
Load Capacity: 40kg
Transports up to 3 bikes
Fits any towbar-equipped vehicle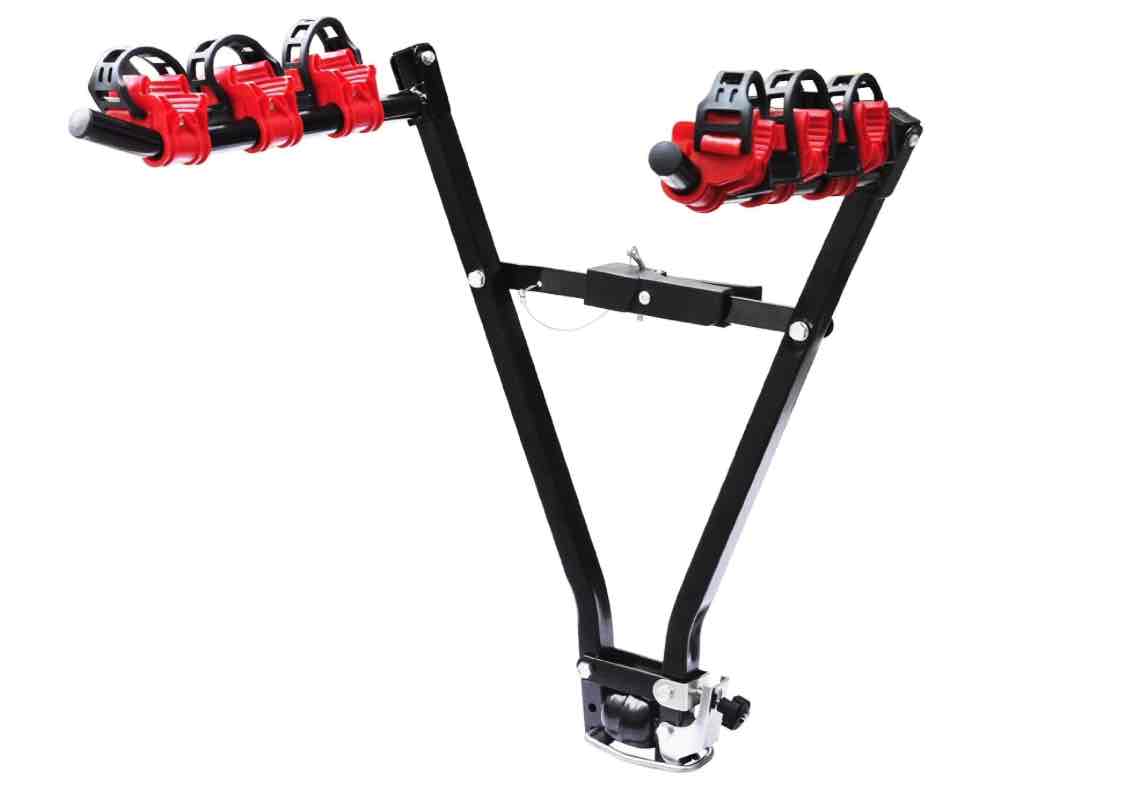 Oypla Universal 3 Bike Best Reviews
Naw
5.0 out of 5 stars Our 2nd one of these – they're great – needs a towbar to fit to (obviously) Reviewed in the United Kingdom on 5 October 2022
Like this so much we bought a 2nd one to replace the old one we used and abused. Actually extended the arms to allow carrying 5 bikes!!!! Yes, I know the manufacturer's warranty and all. I certainly wouldn't recommend it, but we managed 2 kids bikes and 3 adult ones. I dumped the red plastic clip on things (they're hopeless) and put plumbers insulating foam tubes wrapped up in duct tape on the arms (much better) with double sided velcro strips to hold the bikes on – 100% reliable.
54% of the people gave this a 5 star review
Oypla Universal 3 Bike Worst Reviews
Lemmy –
This is not a universal fit and is not as described Reviewed in the United Kingdom on 28 May 2019
There are multiple flaws with this item. Firstly it lacks a secure mounting bar preventing the carrier from tipping over from the weight of the 3 bikes.

This item is also far too wide for a standard 22″mountain bike. If you try to turn your bike to make it fit, it becomes unsafe with only 4″ clearance between the bike wheel and the ground. You will damage the bike.

It's also worth noting it's unsuitable for women's bikes due to a lack of a cross bar.

As there are no foam mounts as described in the product listing, you will end up scraping paint off the bike due to friction and vibration on driving. This is not a safe product and I certainly wouldn't recommend it. The idea is good but the design is fundamentally flawed. 1 star is too generous in reality
11% of people gave this a 1 star review
Witter Towbars ZX202 Bolt-on Towball Mounted 2 Bike Carrier,Black RRP £178
ZX202
Bolt-On Towball Mounted Cycle Carrier
The ZX200 bike carrier series is platform based and takes up to four cycles of any size including a child's. The bike carrier series clamps directly to the towball using an adjuster screw making it suitable for any type of towbar – flange or swan neck, fixed or detachable.
Low platform makes it easy for cycles to be loaded and unloaded
Supplied with light board and 2in1 electric plug to accommodate both 7pin and 13pin sockets – no adaptor needed
Adjustable wheel holders accommodate most cycle sizes
Carrier can be tilted even with bikes loaded for easy access to the boot
Witter Towbars ZX202 Best Review
Jo Wood –
5.0 out of 5 stars Great! Reviewed in the United Kingdom on 14 March 2022
We're very pleased with this product. Cheaper compared to other similar bike carriers but this does not reflect in the quality. Assembly is quite straight forward following the manufacturer's instructions, however we had to check we got the indicators the right way around before fitting together.
You need two people to mount it onto the car and it is easy to fit. It is surprisingly very stable considering it is just clamped to the towbar. Our two bikes fit well and feel very secure with the straps provided plus one additional one.
Overall we are extremely happy with our bike rack which has to leave the house via a bumpy track – it never moves! Highly recommended!!!
65% of people gave this a 5 star review
Witter Towbars ZX202 Worst Review
N Holmes –
Save up and buy a better quality product. I wish I had. Reviewed in the United Kingdom on 3 August 2019
Instructions were confusing (and I'm an engineer) and the quality of the finished product just isn't there. The crossbar does not inspire confidence at all and I didn't feel as though it was good enough to transport my bikes to Europe so I left them at home for this holiday. Pretty useless then.
I bought this because my tow bar is made by Witter and I was impressed by its quality but this is a rubbish product.
5% of people gave this a 1 star review.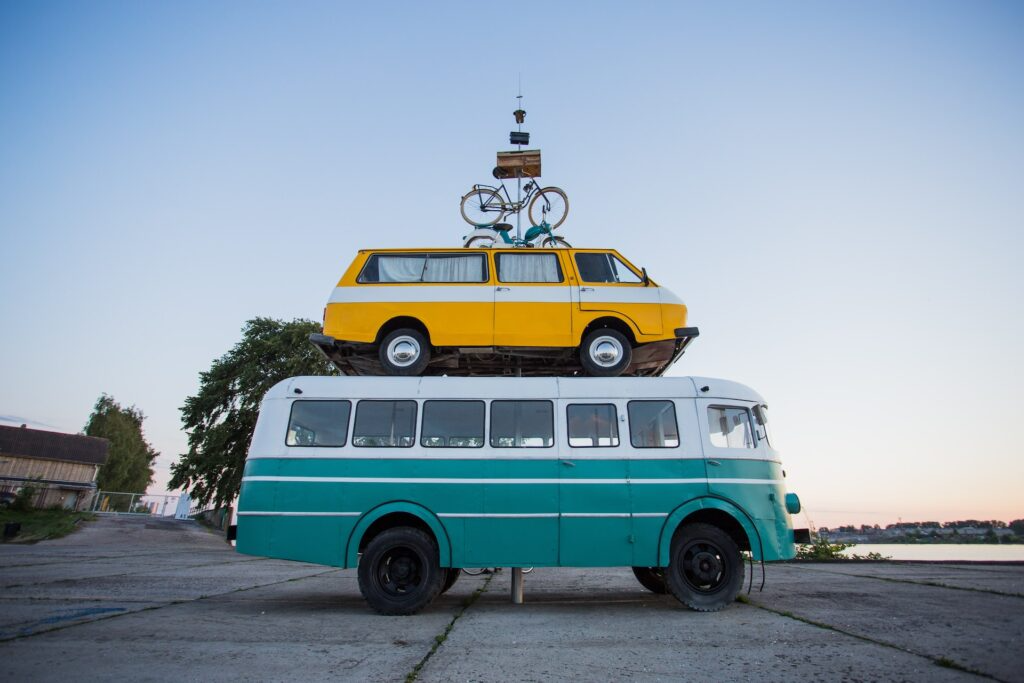 Boot Mounted Cycle Carrier
Boot mounted bike racks are a type of trunk-mounted bike rack that attach to the trunk or hatchback of your car using straps or other fastening devices.
Saris Bones 805BL – Starts at £125.99
Saris 805BL Bones Car Trunk Bike Rack, 2 Bikes, Black
Wanderlust is in the bones. Whether you have a hankering for the lonely highway, wicked single-track or unexplored back roads, here′s the rack for you. The easy-to-install, bone-solid, fun-to-look-at Bones rack with a two-bike capacity and non-marking resin construction.
With ratchet straps that keep your bike secure to the rack arms, exclusive anti-sways and articulated rubber feet to protect the finish on your vehicle, bones ensure that nothing gets damaged in transport. The vinyl-coated hooks strap securely to the car with spring-buckles, which makes installing bones quick and easy. The arched design fits practically any vehicle-from sedans to mini-vans-even most Cars with a spoiler. And because it's a trunk-mounted rack, your bikes are accessible and easy to put in place. No overhead lifting, twisting, balancing or hefting required, so you can save your energy for the ride. Constructed from heavy-duty, 100% recyclable plastic, bones is the strongest rack on the market. Injection-molded arms and legs will never rust and can support up to three bikes with ease, separating them on different levels for the ultimate assurance that they won't rub or touch during transport. All of saris' racks are built in madison, wi. Covered by a limited lifetime warranty.
Saris Bones 805BL Best Review
KNP
5.0 out of 5 stars Perfect for hatchback with a spoiler Reviewed in the United Kingdom on 21 March 2022
Size Name: 3 Bike CarrierStyle Name: Bones EX TrunkVerified Purchase
The top straps on this rack can be positioned high enough so that they don't put any pressure on my car's fragile "sporty extra" plastic spoiler (VW Golf GTD). The rack is solid, fairly easy to fit, adjust and remove, and even though I've fitted high it holds the bikes at an easy to reach level. It also stays put and thanks to the rubberised parts hasn't caused any scratches on the bodywork. It's far better than the cheap metal frame style rack I used to have, I'm glad I upgraded.
66% of people voted a 5 star review
Saris Bones 805BL Best Review
Matthew Donnelly
DO NOT BUY THIS! Reviewed in the United Kingdom on 8 January 2022
Size Name: 3 Bike CarrierStyle Name: Bones EX TrunkVerified Purchase
Bought this bike rack based upon good reviews across the board. Fitted easily to the car and seemed solid. Collected my nice new Trek Hardtail to firstly find that it only just about fits 2 bikes on. As i travelled home on the motorway at 60mph. My wife noticed my bike in the mirror as it flew off the back of the car. Pulled over, had to dangerously recover the bike due to its position on the motorway and oncoming vehicles at high speed. Upon further inspection, the clips holding the bike in place had sheared off. My new bike is now unrideable and im just thankful it didnt hit another car or cause me serious injury in recovering the bike. Like I say, DO NOT BUY!
3 BICYCLE CARRIER CAR RACK BIKE CYCLE TOWBAR UNIVERSAL FITS MOST CARS 181093 £29.99
| | |
| --- | --- |
| Colour | Black / Red |
| Vehicle service type | Car, Bicycle |
| Brand | Maxim |
| Folding | Yes |
| Load capacity | 40 Kilograms |
| Mounting type | Rear mounted |
---
About this item
BICYCLE CARRIER RACK
CAN HOLD UPTO 3 BIKES
WILL FIT MOST VEHICLES EXCEPT (4 X 4 WITH REAR MOUNTED SPARE WHEEL)
EASY TO INSTALL
MAX 40KG FOR 3 BIKES
PLEASE NOTE: These are not suitable for children's bikes.
Maxim 3 BICYCLE CARRIER CAR RACK Best Reviews
Stephen Howard
Bike carrierReviewed in the United Kingdom on 26 August 2022
Easy to assemble, bike fits perfectly
23% gave it a 5 star review
Maxim 3 BICYCLE CARRIER CAR RACK Worst Reviews
Kevin –
Dangerous Reviewed in the United Kingdom on 17 October 2022
Two of the plastic buckles broke on the first trip which hold the straps on and the rack with two bikes fell off. Really avoid buying this cycle rack as it is very dangerous.
19% of people gave this a 1 star review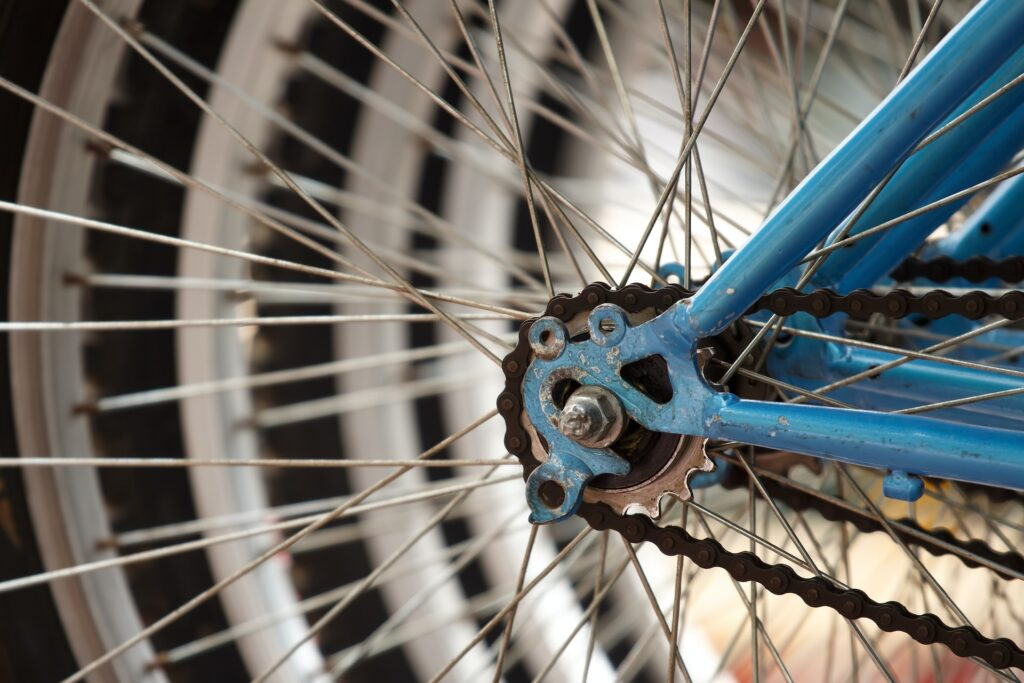 Bike Roof Racks
Roof racks are a type of bike rack that attach to the roof of your car using special mounting hardware. These racks are typically more expensive and require more effort to install than other types of bike racks, but they can be a good option for people who need to transport multiple bikes or who have larger or heavier bikes.
FISCHER car roof bike rack | TÜV GS tested | suitable for a bike | Load up to 15 kg | lockable £45
FISCHER Roof Bicycle Carrier for 3 Bicycles
for mounting on the car roof rack for transporting a bicycle
, suitable for many Rahmentypen
, Aluminium support arm mount using a comfortable, quick release
Lockable Suitable for racks with a bar
strength: 1.89 x 2.36 Inch (48 x 60 mm) (18093)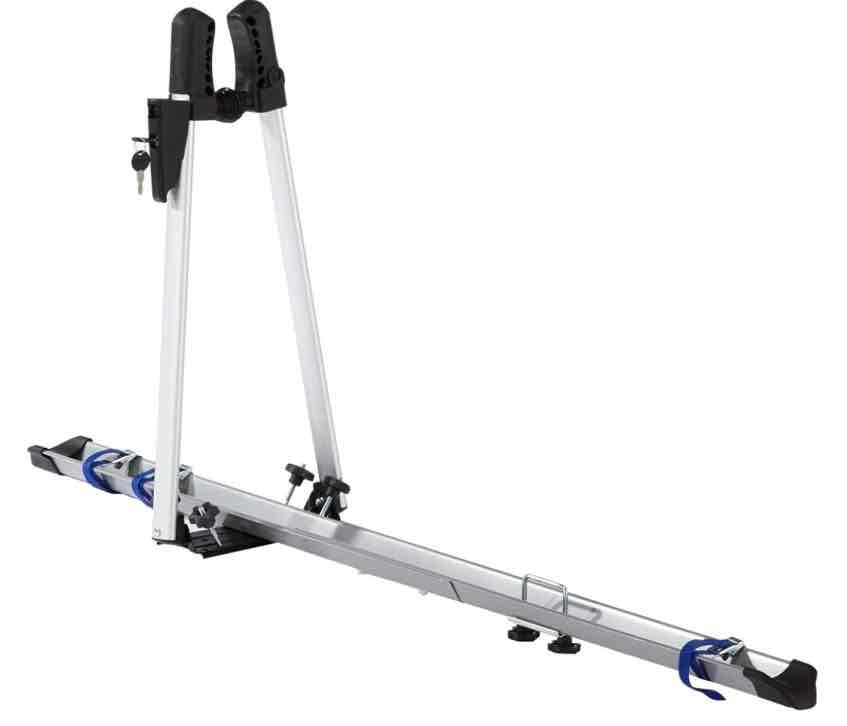 FISCHER car roof bike rack | TÜV GS Best Review
Luca Grillo –
The only precaution is to correctly assess the distance of the bars on the roof. Reviewed in Italy on 14 September 2022
The assembly is very easy and fast. It looks sturdy on the surface. Even the finish is of high quality
26% of people gave this a 5 star review.
FISCHER car roof bike rack | TÜV GS Worst Review
Joe King –
Major issues. Read review for details.Reviewed in the United Kingdom on 23 December 2019
Some serious problems with this product.
1: The bar that reaches to the bike frame does not reach a normal adult size bike. It's not adjustable in length.
2: The clamp on top of the bar does not fit over a standard mountain bike frame. It's jaws don't open wide enough.
3: The whole design is not great and it's has no quick release system to detach from roof racks.
4: The instructions are poor in that they miss some essential points which are obvious but only in hindsight.
5: The end caps refused to fit on the track. Multiple people tried. Terrible design.
6: The length of the track is only just long enough for a standard bike. Even though it won't mount due to points 1 and 2.
31% of people gave this a 1 star review.
ROCKBROS Suction Bike Rack Car Roof £139.99
EASY INSTALLATION】With quick release fastener and synthetic rubber sucker, it is easy to fix your bikes on the car roof. The weight of our bike rack is between 2.1-4.5kg, it is portable to carry and install. And there is a installation video in the Picture 7, please follow the instructions or the installation video.【ATTENTION】If the suction cups could not work normally, please notify us, we could send the replacement suction cups to you.
【NOT DAMAGE YOUR CAR】Synthetic rubber suckers are sucked on the car roof, will not damage to the paint and sheet metal of your car, and the maximum load capacity of each bike on the car bike rack is 20kg. This bike carrier for car make travelling with your bikes come true.
【STABILITY&SECURITY】The aluminum alloy body is sturdy enough to hold your bike. Vacuum pumping suction cups ensure firmness of the rack. And the crank is fixed with high-intensity hook and loop fasteners, which could prevent pedals from attriting roof of cars.
【COMPATIBILITY】Roof top bike rack for one, two and three bikes, are suitable for most bicycles, and could be used for all almost vehicles like sedans, coupes, hatchbacks, SUV, vans, and more. Meets your need to transport your bikes during road trips or camping excursions.
【LOW WIND-RESISTANCE】Cabinet and delicate rack shape could controll wind resistance, and also greatly lower the noise, let your driving environment be more comfortable. ☆☆PLEASE NOTE: This sucker bike rack is quality guaranteed, we provide after-sale warranty. If you have any questions or suggestions, please feel free to notify us, we are fully at your service.
ROCKBROS Suction Bike Rack Car Roof Best Reviews
Emma –
Owned for a year- updated review Reviewed in the United Kingdom on 22 July 2022
Colour Name: Black for 2 BikesVerified Purchase
This is a great product.
I've owned it over a year now and still really pleased with it. The first time I used it one of the suction plates kept loosening. I contacted the seller and they shipped a new mechanism which works great. Used lots with my children's bikes for when we go camping.
Really quick and easy to put up (just clean your roof and suck it on)! Ready for our next adventure. Highly recommend!
66% of people gave this a 5 star review
ROCKBROS Suction Bike Rack Car Roof Worst Reviews
Jane M-
3 bike version is faulty Reviewed in the United Kingdom on 3 June 2022
Colour Name: Black for 3 BikesVerified Purchase
This was purchased for a family bike trip for the Jubilee. At least two of the suction pads do not work despite following instructions very carefully. The other models may be ok but looking at other reviews further down on Amazon now I can see that the 3 bike option does seem to have an error and there are issues with suction pads on other reviews. Why bother to keep selling this product if there are design faults? I cannot see a way to contract the seller either?
Best Bike Rack Conclusion
Before buying a bike rack for your car make sure you read the reviews. Not just the good reviews, read the bad reviews as well because you may have the same vehicle. Speak to as many cyclist as possible to get the good/bad opinions.
Of course if you are traveling internationally they you will need the Shokbox bike box.
More Reading