Yes there are alternatives to Shokbox but are they as good as what we produce, do they offer a lifetime warranty(t&c's apply) on their bike box for shipping?
buxumbox
The Buxumbox looks like the same as airline cargo boxes that get reused on a daily basis. They look like they would certainly last a lifetime, in fact maybe a little over kill. Made from 100% recyclable aluminium in the UK, it does say on the website that it is conceived to last a lifetime. However, it looks like they don't actually offer a lifetime warranty on the site. The manufacturing warranty lasts for 3 years.
Very square in the design but it does look quite retro and at a cost of £108 you can bling it up some more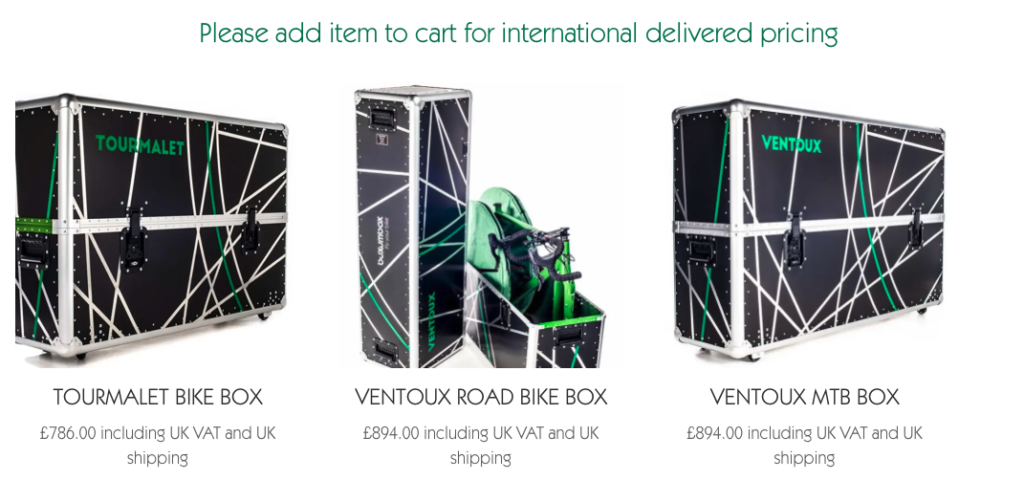 buxumbox conclusion
Price starts at £786
Made in the UK
Recyclable = yes
Bling up Options £108
Overall external dimensions 152 x 87 x 36cm (59.9 x 34.2 x 14.2″). (other sizes available)
We think it is a good looking box and will offer good protection to your bike. A little over kill unless you intend to ship your bike on a weekly basis, also quite expensive but if you are a pro rider it may be worth considering. They have varying weights of the case so be careful which one you choose.
Thule
Thule are well know in the motoring industry for their roof racks and bike racks for cars. A very well know brand that has been around for 7 years plus. They produce a number of options for your bike to go in, hard case and soft case. Slightly confusing is that Thule roundtrip pro XT is marketed as a soft case, the standard Roundtrip is hard case. However, they look exactly the same, a hard base with soft material sides.
The soft side is good idea for storage when you are not using the product, but does it offer enough protection for the bike? It comes with a handy little stand that helps you dissemble the bike and is also used to secure your bike in the case. They also come with handy little wrappers for the seat, handle bars etc which is quite neat.
Their proper hard case is made from a ABS shell and a sturdy base rail made of lightweight aluminium. The warranty is for 2 years and the cost is £650
Thule Conclusion
Price starts £546
Made, we think the UK
Recyclable = unknown
bling up options = none
dimensions 137 x 39.3 x 94 cm
We do like all the little extras on the soft side bags and it is great for no use storage. However, we would not go for the soft sided case. The hard case does offer a lot more protection, it only has wheels on one side so manoeuvrability may be a little difficult. The other factor is that hard case comes in at a whopping 17kg compared to the Shokbox at 12.9kg. All products a little expensive aseptically when you only get 2 years warranty, you may only use it twice intuit period !
Scicon
Is it Scicon or SC- Icon, anyway they do have several offering in their range, from soft bags to hard cases. The AEROCOMFORT 3.0 ROAD BIKE TRAVEL BAG, has a scathing review on Amazon about the material ripping. It could of course be a one off occurrence. They even make a bag for a tandem, how cool is that and so far it is the only one I have seen.
They do have some cheap carry solutions for the bike but they are for only local travel such as a train journey or bus. Once you get uptown the bike case for air travel the prices become quite expensive. The soft side cases are £650, they do have nice internal pockets for the wheel so it does not scratch your frame. However, if there is any impact damage it will be on your wheels and probably cause damage to the spokes.
The hard case made out of proprietary ABS composite material comes in at £849 and Weight: 12,5 Kg.

Scicon Conclusion
Price starts £650
Made in Italy
Recyclable = unknown
Bling up = yes with wheel bags starting at £55
External Dimensions 115x92x34 cm