" The new bench mark for bike case design "
Shokbox is the ultimate cycle protection system. A bike box if you will. Setting the new benchmark for bike case design and functionality. Our hard case is manufactured from a unique blend of polymers and provides a high level of strength and security when transporting your bike overseas. Manufactured and engineered in the UK. Shokbox bike cases were designed for cyclists, by cyclists. The Shokbox Premium Bike Box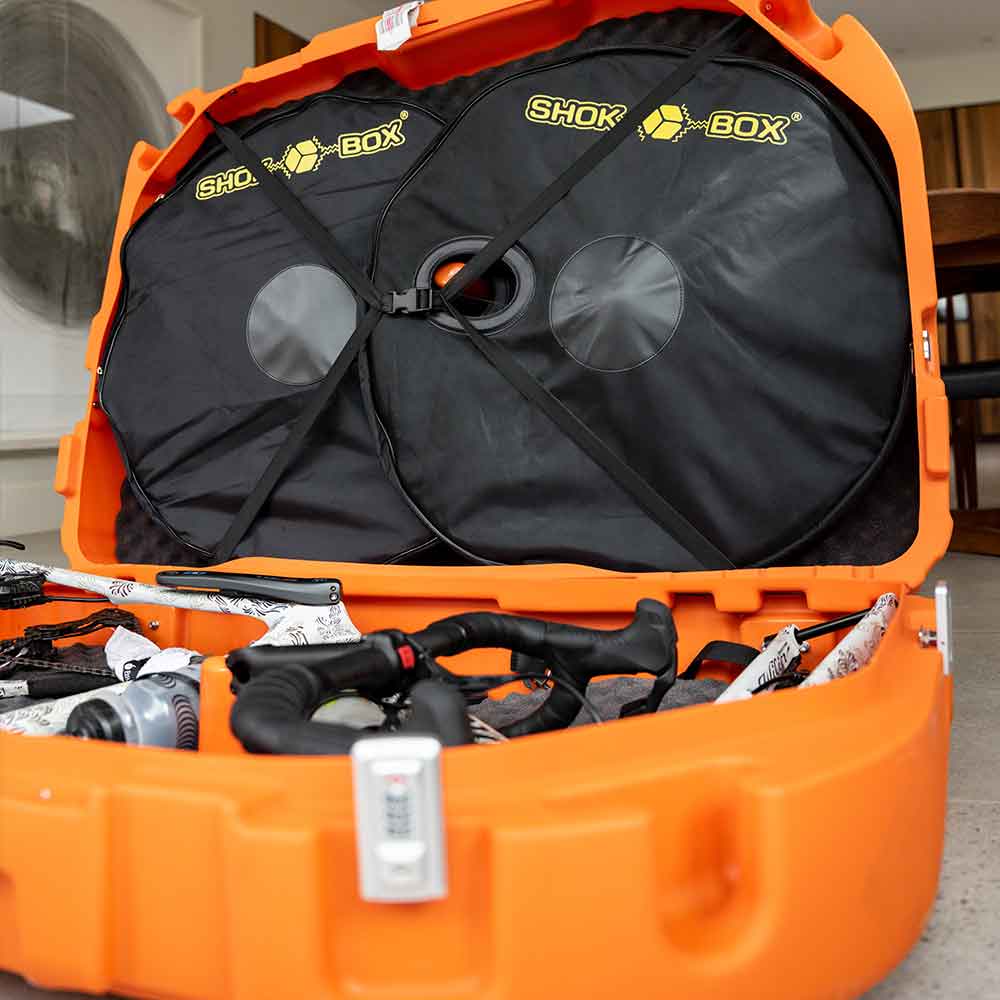 The Concept of the hard cycle case
We set out to create a multi-functional solution, adapting existing technologies we built our case around two chambers. Separating wheels from the frameset to give unrivalled internal protection.
Externally the cycle case needed to offer the highest level of protection from extrinsic factors. Such as stacking, impact or dropping.
Whilst visually our case needed to be distinctive from the rest of the market. It also needed to have an unparalleled build quality with high-performance components.
We felt that all other available cycle cases in the market had focussed on function over form and in the main. All looked the same in industrial in appearance with a piano hinge and two-wheel recesses.
With user experience in mind, we aimed to minimise the appearance of nuts, bolts, rivets and fixings. Integrating the features into the bike box where possible, giving Shokbox the look and feel of a piece of premium quality luggage
Soft Case/Hard Case Construction
Although soft cases do offer improved storage solutions for a small number of the population. However, we decided on a hard case because we felt that on balance, a soft case solution could not offer the same levels of safety. Along with protection and security from baggage handlers or on the flight.
Materials For The Hard Cycle Case
Once we had decided on the construction of the cycle case, we started to look at materials. Aluminium was one consideration, but Polymers offered more opportunity for engineering creativity. As well as aesthetic value and it can flex and reform making it very versatile bike box.
Moulding technique
We explored several manufacturing options for the shell. The moulding technique would be key in that we didn't want to limit our creative freedom. Or even how ambitious the design would be. We needed to have control in getting extra material into those vital and more vulnerable impact areas. Many cases are vacuum formed which can leave the external folds vulnerable to impact.
Basically, if you were to take a sheet of plastic, heat it and then effectively bend it into shape, the edges would be thinner, prestressed and vulnerable to impact.
After much research and discussions with manufacturers. Then we decided a moulding which not only gives us an industrial-strength surround, that better protects the bike. It then gives you the flexibility to control the wall depth.Video Player
Features of the Hard Cycle case
At 12.8kg +/- the Shokbox is a little heavier than some of the competition cycle cases. Although not essential, the optional wheel-bags add 900g giving added confidence, particularly if you're travelling with your best wheels. There are no complications with alternative skewer standards, including disc brakes. The Shokbox will accommodate anything up to 100mm rim sections. Simply pop the wheels in the bags and you're ready to travel.
Note: will not accommodate a full carbon disc wheel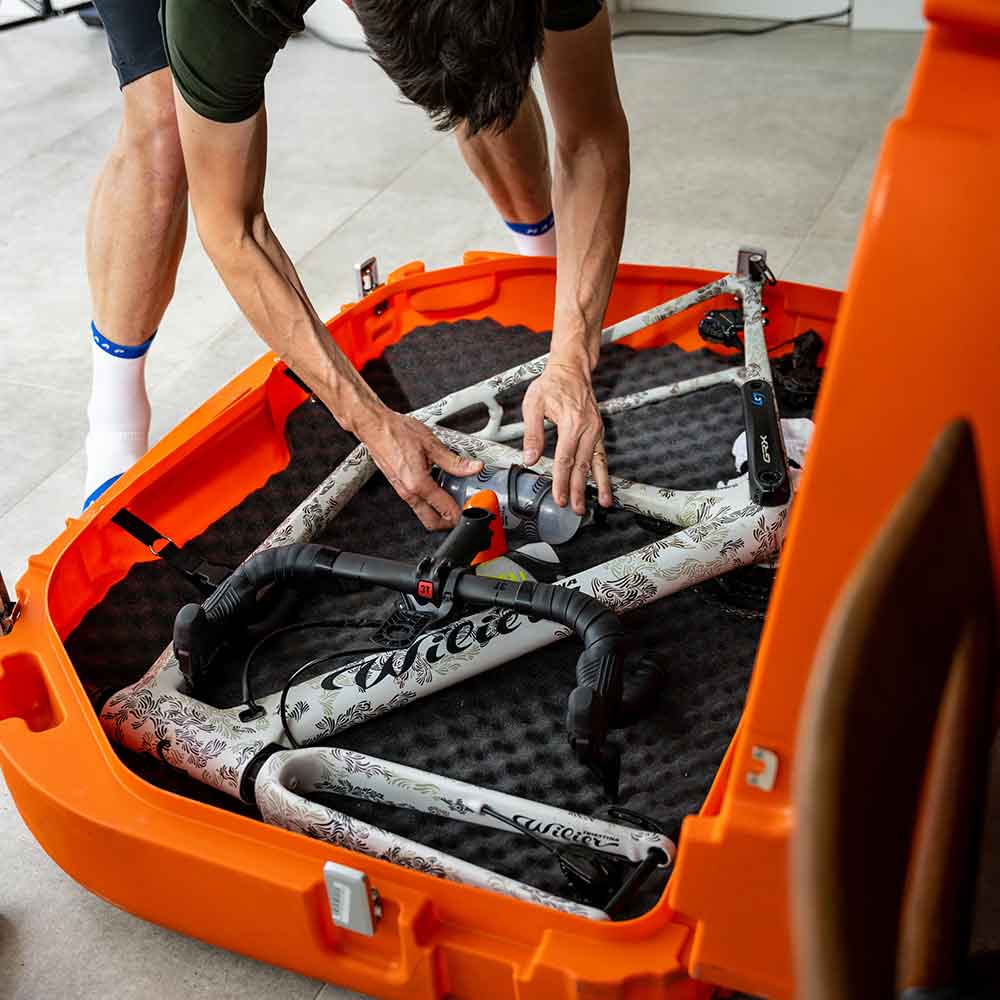 The Triangle Cycle equipment storage bag
The bag is designed to accommodate the saddle & seat post combination which sits in the front triangle of the frame. Additionally, two internal pockets for stowing your pedals means there is lots of room for other items. On several trips, I also got my cycle helmet, shoes and a few tools in.
What To Do If Your Luggage Goes Missing
The Integrated anti-crush system means it's simple to pack* your bike as there are no skewers or locating rods to be attached. Added protection from lateral impacts and stack loading. Our revolutionary impact damping technology is designed and engineered to divert impact away from the frame by directing it into the heavy-duty sidewalls.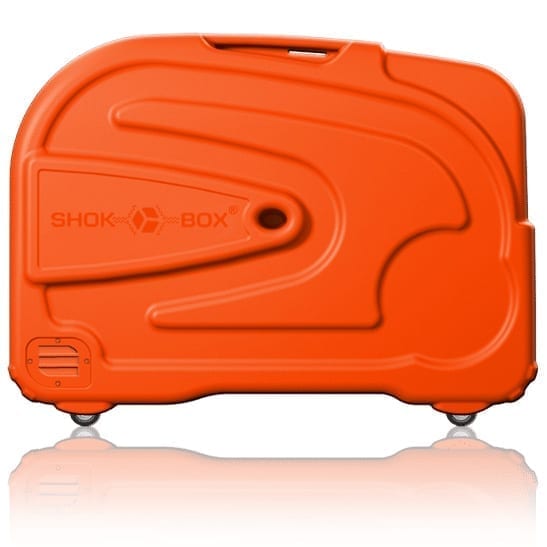 Video Player
Integrated protection zones protect the more vulnerable areas such as drop-outs, rear mech, seat and chainstays etc. The impact zones give strength and confidence when packing your bike.
Video Player
Integrated Wheel Protectors
Recessing the wheels wasn't enough as castors are often exposed to lateral impact in transit. So our case also gives that vital added protection from side impact.
Integrated handles
With 32kg available weight in flight, lifting and moving your case can sometimes be a challenge when packed. We ergonomically integrated two easy-pull handles to increase manoeuvrability and usability of the Shokbox. It moves effortlessly and smoothly through the airport.
Integrated hinge
Traditionally bike cases use a hinge externally mounted to the case to create a spine closure. Over time flex in the lid causes wear on the fixings, shortening the lifespan of the case. To avoid this, we created an internal hinge. Then we moulded a box section into the base of the shells and fixed the coupling with steel rods.
Travel Sentry TSA-approved latch's (Travel Security Agency) add peace of mind while travelling with your Shokbox overseas. Fitted neatly into a recess in the case's structure.
Multi-directional castor wheels mean that your case will glide around the airport lobby. The super slick TPE wheelset is load tested to 200Kg, making it highly durable and manoeuvrable.
Strength in the closure
Generally, bike cases are designed around a single moulding tool. It makes sense to manufacture one part and then split it,
like parting an Easter egg.
Although cost effective, it limits design freedom. So the manufacturers have little choice but to opt for a telescoped closure, i.e., the lid locates over the base.
We wanted to be ambitious and create a solid feel to the closure, adding strength and integrity to the case. Uniquely Shokbox is manufactured as two separate components with twin mould tools. Whilst there are time and cost implications, we did not want to compromise. Thus giving ourselves the flexibility to incorporate engineered design features. Video Player
GPS Tracking
One of our USP's is the GPS geo tracking solution, with patented technology and a third-party app from Lugloc. The technology allows you to track your bike wherever you are in the world. The feature is standard on Premium models. The lightweight unit is removable for easy charging and fits neatly behind the foam inserts on the inside of the case
How it Works
LugLoc Keeps Track Of Your bike case, And Keeps Your Journey Alive!
The geo-tracking solution is LugLoc, it helps you track your bike at virtually any airport in the world. Lugloc is for everyone! Whether traveling for business, vacation, or with large valuable items. It packs inside any size bag, making it smarter and traceable. Together with the free mobile app, LugLoc lets you focus on what really matters and makes your trips more relaxing and enjoyable.
Features
In order to protect your luggage, your bag has to be able to send a signal from anywhere in the world. The only way that's possible is for device to have a SIM card like your phone.
Luckily, LugLoc comes with it's own SIM card so your luggage can be located virtually everywhere. Whether in airports, hotels or up in the mountains, we can find it and report its location on your mobile app.
· Airline Flight Compliant
Patented Triaxial Accelerometer (FAA, TSA and FCC compliant) allows device to detect flight and "goes to sleep" when your plane takes off and "wakes up" upon landing.
· Connected Luggage with Long Battery Life
Rechargeable battery that lasts 15 days, perfect for frequent travelers or road warriors.
· Reliability of GPS Luggage Tag
LugLoc uses Cell-Tower Connected Technology, which is more reliable indoors than GPS chips, to track luggage in airports, due to unstable or direct connection to GPS satellites in the sky. You'll see a small radius on a map displaying location. While not "exact" like traditional GPS chipset devices, you'll know where your luggage is at all times. Always keeping your journey alive.
read our guide on the cost of cycling.