So you want to pedal around Europe on your 2 wheels but what is the cheapest way you can do that. Let's
take a look how we can travel abroad with your bike on a budget. Lets say the start place in around middle England, Nottingham. Wait, what essentials you need to pack on a cycling holiday.
The Start Of The Budget Cycling Holiday
Of course you have wheels so what better way to get to the train station than cycle there. Total cost of getting to the train station £0.00.
Train From Nottingham To Dover
To be as budget friendly as possible we have decided to travel on the train after 9.30am when the tickets are much cheaper. Yes you can take your cycle on the train and usually it is also free. There are restrictions at peak times (another reason for not traveling at peak, but beware some routes consider peak unto 10am.) Usually you can take your bike with you onto the train, in some instances if busy they may ask you to place it in one of the storage carriage.
A basic no frills return ticket Nottingham to Dover Priory trains station comes in at cost £80.75 with booking fees.
Travel From Dover Priory To Ferry Terminal
In normal circumstance the ride is just 16 minutes to arrive at the Ferry terminal and we have nearly 50 minutes. This allows for any minor delays or mishap and comes in as a total cost of £0.00

Cost Of The Ferry
If you are traveling just with your bike then a return trip from Dover to Calais can be very budget friendly for cycling abroad. Flexibility on sail dates help as well, so the cheapest ticket going out on P&O and then returning on a DFDS ferry costs just £46.00. Depart on the 1st of July 2022 and return on August the 1st 2022, a month cycling should give you plenty of time to explore the continent. The departure time would be 14:00
However, we went with the £50 ticket at 14:40 because the train does not get into the station until 13.33. Its estimated a 16 minute bike ride to the docks but if the train is late or any delays on the road you could potentially miss the ferry. Total cost of Ferry £50.00.

Arrival At Calais
So you are now in France on your budget cycling holiday and the total cost is £129, that includes the price of return as well. Now its time for a short cycle ride for your first destination. However, there are other options, do you continue your budget cycling in France or head to another country.
Discover more ways to get your cycle abroad.
Additional Destinations From Calais
Andorra
You could travel on to the edge of Spain and France, you can get to Andorra and back to Calais with a return ticket for around £160. There are some changes of trains you need to make, on the outbound journey you need to get from Paris Nord to Paris Austerlitz, this journey is actually quicker on a cycle than a car. The estimated time for that journey on a bike is 25 minutes and you have 2 hours before the train departs from the Paris Austerlitz station.
Then from Paris Austerlitz station it is an overnight train journey to Andorra so it probably wise to upgrade your tickets so you can get some proper sleep. The cost to upgrade is around £25 so well worth the value. Andorra Cycling Territory has spectacular mountain passes for cyclists. Riding in Andorra in summer is booming and it is because Andorra is cycling territory. Andorra is a paradise for road cyclists, especially for climbing cyclists or those looking to train at altitude. If you are looking for some quality rides in Andorra, try this link for some spectacular routes.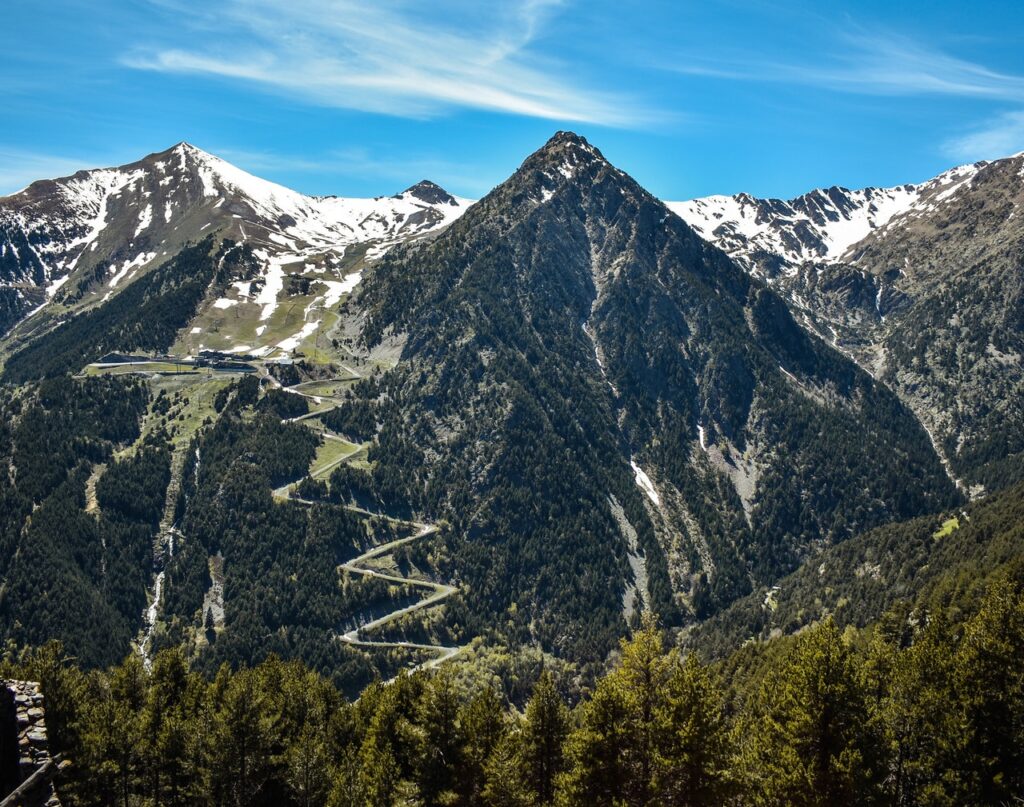 Of course after Andorra it is quite easy to go back into France or venture into Spain. Maybe you only need a one way ticket