By Mat Brett Review Shokbox
The Shokbox Premium is a tough box that comes with a tracking system for locating your bike during air travel. Although it's a heavy option that might push you over weight limits with some carriers. It's not actually in stock until mid-December, but Shokbox is taking orders in the meantime and discounts of 30 per cent are available on both the Premium and the Classic (more details below).
Pros: Strong construction, good latches, manoeuvrable
Cons: A little heavier than rivals, LugLoc adds to the price
The Shokbox is made in the UK from 'a unique blend of polyethene', according to the manufacturer. It's tough stuff. We have, of course, flying with the box as part of the review process and it has come through relatively unscathed. We can't be sure how much baggage handler abuse it was subjected to behind the scenes, so we dished out some of our own. Lobbing it about and stacking other boxes on top just to check its strength. Don't tell Shokbox but we also gave this bike box a whacking with a rubber mallet. It seems like a reasonable simulation of the sort of ill-treatment that's meted out in airports.
Lock 'n' roll
The Classic ShokBox — which isn't made from such a high grade of plastic — is secured shut with simple TSA locking latches, while the Premium bike box version that we have here comes with the addition of two TSA combination locking latches. This means that you can lock the box but that the authorities at the airport can open it without causing damage if they want to check what's inside, and re-lock it afterwards.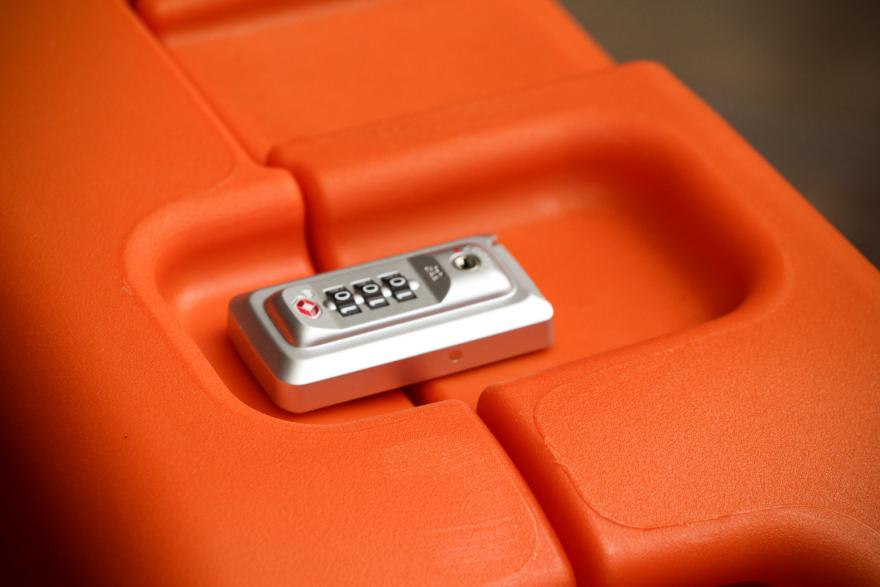 Road CC First Look & Review Shokbox
Dave takes a look at the new Shokbox hard case bike box UK pre kickstarter launch in 2017. The campaign went on to raise 130% of our funding target.
Katie Butler's Review Of The ShokBox AKA Katie Kookaburra
Katie Butler has an amazing story of how she got into serious cycling events. It was back in 2014 and on holiday in Australia when she decided that rather than spend her money on shark cage diving she bought a bike instead. She then rode around Australia and South East Asia struggling to do a mere 15k ride but then was up to doing rides around the 60k mark. Now Katie is a formidable cyclist and now four years later, I have lost a lot of weight cycling and now love endurance riding. My longest ride was just over 407km and I also recently rode Land's End to John O'Groats and from San Francisco to Los Angeles. I am also getting into racing too and have some 1000km+ rides planned for 2019.
Cyclist Review Shokbox
Although soft-shell bike bags offer a lightweight option for those on limited budgets. Our advice has always been to opt for a highly protective hard-shell case whenever you're transporting your bike.
Not all bike boxes are created equal, however. So here we guide you through what Brit firm Shokbox offers with its products so you'll know what features to look for when making this essential investment…
1. All Shokbox models – including the Classic, the Premium and the forthcoming Professional – use highly durable yet lightweight polypropylene for the outer casing.
Shokbox's design then pushes this protection to the next level with features such as rounded, reinforced edges. These minimise the effects of impacts in the areas where they're most likely to occur.
2. Once your bike is partially disassembled – a case of quickly removing its wheels, pedals, seatpost and bars – there's plenty to keep the outside world from getting in.
A central support, for example, is integral to the case's anti-crush properties, and is strong enough to help keep the case's walls apart even if a full-grown man stood on the case while it was laid flat.
3. Further internal anti-crush protection comes in the form of thick foam pads. Two sit between the outer walls of the case and the bike frame and wheels.
A third is then sandwiched between the frame and wheels.
4. Your seatpost and pedals get their own carry sack.
5. Your wheels get their own bags, which are then securely strapped into the case's lid.
6. There's also plenty of room for your helmet, shoes, and any other cycling clothing.
7. Stainless-steel castors provide extra clearance and mobility for gliding through airports.
8. Theft deterrents include an in-built GPS chip (trackable via dedicated app) plus lockable TSA combination latches.
All cases can hold frames up to 62cm, and come in a blaze of different colours – so yours will be instantly recognisable when it emerges unscathed at baggage reclaim. (first Published)
Shokbox Review by King Of The Ride / Holiday Gift Guide
Let's call a spade a spade; traveling with a bike is a pain in the ass. ShokBox is a British company that's made traveling with a bike a considerably less awful experience. I'm 6'2" and ride a 58cm bike. I have complete appreciation for the bike bag companies that allow you to disassemble your bike and not get charged an arm and a leg, but given how much I travel, I prefer to keep the disassembly as brief as possible. Furthermore, the go-to check-in line of "Umm, these are display materials" no longer works in duping the kindly person behind the desk.
Every check-in agent knows that it's a bike even before they saw your helmet dangling from your backpack. The protection in a ShokBox is second to none, the four wheeled, infinite steering capabilities make it truly enjoyable to roll through an airport, and you can travel with peace of mind that your bike will arrive safe and sound. Not inexpensive, but neither is your bike. (First Published King Of The Ride )
Welcoming @shokbox to my cycling family. Big travel plans call for a solid unit😉 pic.twitter.com/yOMZHgfYnx

— Ed Laverack (@edlaverack) January 28, 2020
Bought #shokbox off to Pyrenees in a few weeks can't wait pic.twitter.com/ykw4MpjrNI

— Sean (@SeanPatKerry) April 17, 2019
Having no worries about flying with our team bikes this season, thank you to @shokbox for your support, looking forward to collecting them this week! #teamcamp #veloperformace #shokbox pic.twitter.com/lvzSUK9O3j

— Jo Tindley (@jltindley) February 20, 2019